Grow Your Own Viagra
Horny Goat Weed is a legendary aphrodisiac/Viagra used for thousands of years in China. It got it's name when a goat herder noticed that when goats grazed on the plant they started mating excessively! A woodland plant of the genus Epimedium it prefers shade or partial shade. The dried or fresh leaves can be chopped up finely to make a tinture or tea.
BENEFITS OF HORNY GOAT WEED
The active ingredient (Icariin) gives the following benefits.....
1 OPEN'S UP BLOOD VESSELS TO THE PENIS Icariin allows the blood vessels to relax opening them up.
2 INCREASES SEXUAL DESIRE Icariin stimulates the sensory nerves especially in the groin.
3 LOWERS BLOOD PRESSURE Consult a doctor if you have a heart condition.
TINCTURE
Chop up the fresh or dried leaves finely. Add the following proportions of goat weed and alcohol (usually vodka) into a jar,shake regularly,store in a cool dark place and start using after 2 weeks. 1 part fresh goat weed to 2 parts alcohol. 1 part dried goat weed to 5 parts alcohol. Strain through a tea strainer. 1 tablespoon = 1 dose.

1 Horny Goat Weed Plant in Pot = £11.98 SOLD OUT!
If you want faster results we recommend Wild Viagla which has 400 mg of Horny Goat Weed per capsule along with 6 other effective ingredients.
Very strong, keep to dose. Open's up the blood vessels to the groin.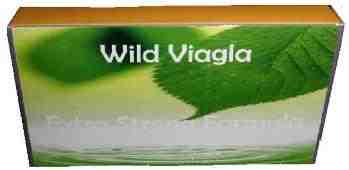 Box of 4 capsules Wild Viagla Extra Strong (Roughly one week's supply) £11.99 including shipping
DELIVERY INFORMATION
UK ORDERS
Same day dispatch. Allow 5 working days
INTERNATIONAL ORDERS

Same day dispatch. Allow 5 - 10 working days depending on country.
POSTAGE COSTS
UK - Free
INTERNATIONAL -Free - No plant orders
Privacy Statement
We use your personal information to provide the services you've requested (i.e. process your order). We may also use this information for auditing, research and analysis to operate and improve our technologies and services. We will not pass your details on to any third parties.